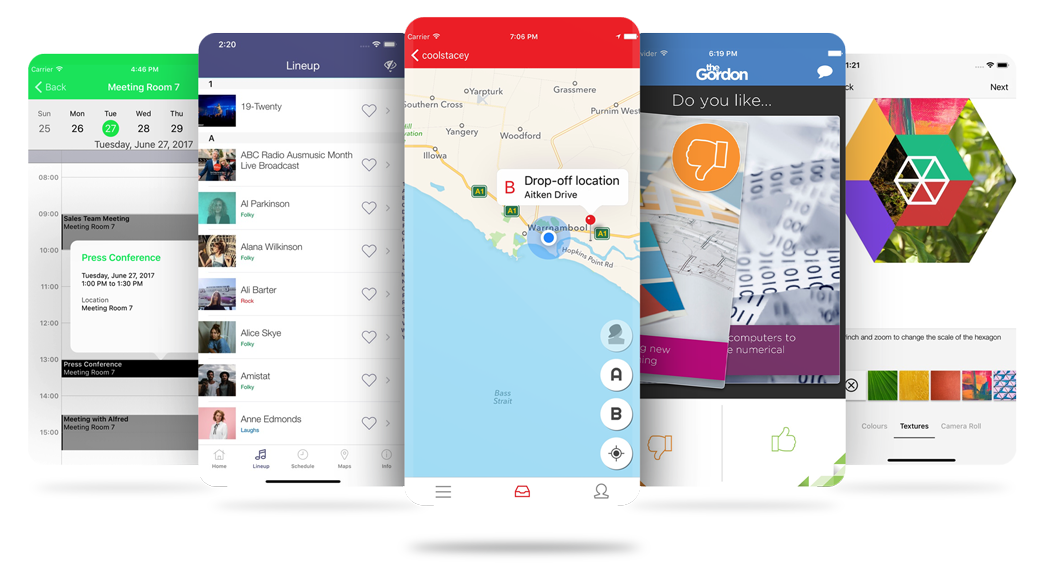 Mobile Apps
Today, smartphones and tablets are ubiquitous. These powerful devices provide the opportunity to reinvent productivity, communication, entertainment and commerce.
Mobile devices are always on, always connected and always at hand. A well-designed mobile app can integrate more seamlessly into our daily lives than any other kind of technology available today.
iOS and Android Platforms
We develop apps for Apple's and Google's mobile operating systems. Together, these systems run the vast majority of the world's smart phones and tablets, including devices made by Apple, Samsung, LG, HTC and many others. We've come to know these platforms inside out, so we can perfectly tailor your app to each environment.
Native Development
We work directly with the application programming interfaces (APIs) provided by iOS and Android. This approach is known as native app development, and it has several big advantages:
Users will find that your app is more consistent with the others they have on their device. It will look and feel exactly how they expect it to, which makes it easy to pick up and use right away.
Your app will be able to take advantage of all the latest mobile hardware and software features.
In many cases, your app will have better performance.
Having tried other approaches, we work natively because it gives us maximum flexibility and control over the results. Your users will appreciate it too.
Hosting, Support and Maintenance
Codeacious keeps your app running smoothly with expert hosting, support and maintenance services, including:
Bug fixes
Tutorials, advice and assistance
Managed hosting for any server-side components
Keeping your app compatible with the latest hardware, operating systems and store policies
Preparing for Launch
iOS apps are distributed on the Apple App Store, and Android apps are typically distributed on the Google Play Store. You or your company will need to register as an app publisher. Here are some associated costs to be aware of:
Apple will charge you an annual developer fee (currently $99 USD) to list apps on their App Store
Google will charge you a once-off registration fee (currently $25 USD) to list Android apps on the Play Store.
If you decide to charge users for your app, these distributors will take a 30% sales commission.
Codeacious will take care of submitting your app to the stores, but you'll need to help out by providing metadata (such as descriptive text for marketing purposes).
Once your app is submitted, it is reviewed and approved for distribution (this usually takes about 2 weeks). If necessary, we will liaise with the Apple or Google review teams to address any concerns, and re-submit the app.
Apple and Google have the final say over whether your app is allowed on their platforms. Before starting a mobile app project, it's worth reviewing their store policies to make sure your product wouldn't be prohibited.